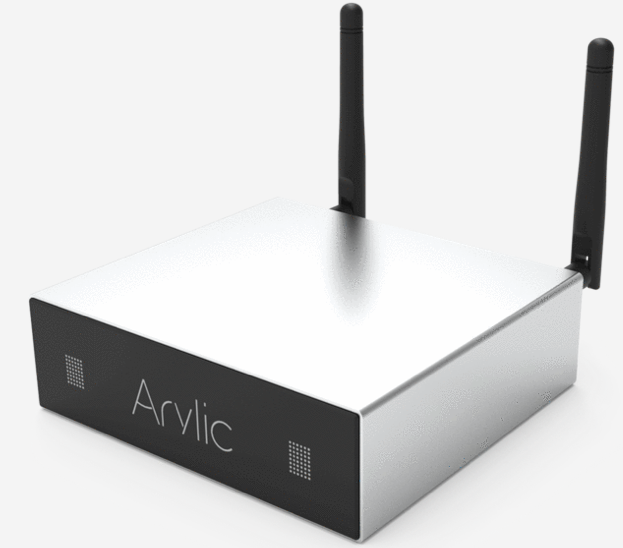 The Arylic A50 (often misspelled "Acrylic A50") is a featured-packed streaming stereo amplifier that represents a great bargain.
Fit and Finish: The Arylic A50 is a very small device. Imagine the size of a typical paperback book. It has an external power supply that will be familiar to most people as the type of "switching" power supply which powers laptop or notebook computers. Overall, the build quality is quite good. A remote control is included, some interconnect cables, removable antennas  (one for WifI and one for Bluetooth) and a mini flathead screwdriver for connecting speaker wire.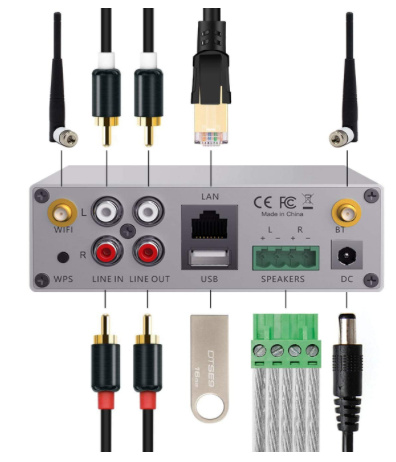 Connectivity: The Arylic A50 includes an RJ45 ethernet port for wired networking, a USB port for USB flash drives (FLAC, MP3 and other file formats are supported from a standard formatted USB flash drive ) as well as analog RCA auxiliary inputs and outputs.
In use: The Arylic A50 can play audio from USB flash drives, analog input (for example, from a CD player or a turntable), bluetooth, Apple AirPlay (version 1) from all Apple devices and computers, and from various streaming services like Tidal, Qobuz and others. It can act as a volume-controlled preamplifier through its analog outputs if you want to use an external amplifier.
Speaker connections: The Arylic A50 uses a terminal block or "phoenix" style connector to connect to external passive speakers. This means you need to insert bare speaker wire and use a mini flathead screwdriver to secure the wire. If you already have banana plugs, this poses a problem, but more on that later in the tips section.
The app: The Arylic A50 is compatible with an iOS and Android app called "4stream" that is quite robust. If you have used a Naim network player, you will immediately recognize the core functionality of this app. There are also other products on the market that share the same core app functionality with the "4stream" app. With the app, you can change sources, change volume, and set bass and treble levels to taste. You can also name the device and control multiple devices in a networked home or office audio system (think Sonos or AirPlay version 2)
Sound Quality: In comparison with multiple amplifiers, including some class AB designs, the little Arylic A50 is quite amazing as long as you are not going for very high volume levels in large rooms or trying to use speakers that do not have decent sensitivity. Speakers below 86 db sensitivity are not the best match for this amplifier unless you don't need very high volume levels. It is rated at about 50 watts per channel into 4 ohms. In testing with various bookshelf speakers from KEF, Wharfedale and MartinLogan, all of which are more expensive than the Arylic A50,  the little amplifier did not audibly struggle or overheat. The amplifier uses an implementation of the STMicroelectronics STA326 class D amplifier which also incorporates a high resolution DAC (for resolving all digital and streaming sources) and an ADC (used to initially convert the analog auxiliary input signals to be processed by the device)
Tip # 1: AirPlay is generally better than Bluetooth. And this is not just related to the Arylic A50. AirPlay is more or less a lossless transmission over Wifi or ethernet. Bluetooth depends on the lowest common denominator of the devices communicating and no matter which version or "codec" of Bluetooth is used, it remains a lossy transmission, meaning details are lost.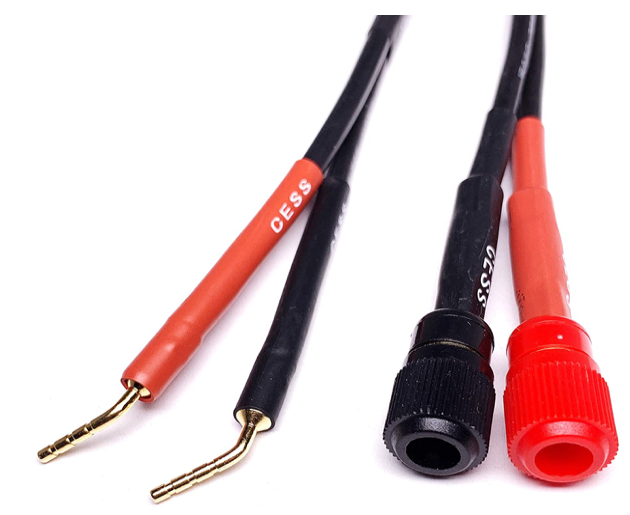 Tip # 2: The "Phoenix" style terminal block connector for speaker wire on the Arylic A50 is a problem if you want to use speaker cables that are terminated with banana plugs. I recommend that you use banana plug to straight pin adapters such as the ones shown here (and to the right) and that way you can use speaker cables with banana plugs.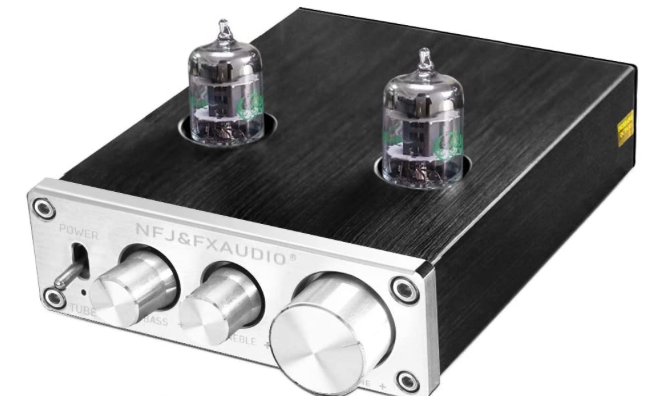 Tip # 3: The auxiliary analog RCA inputs do not accept a full normal consumer input signal level . In other words, most every CD player (unless they have volume controls) and many other component sources will be too hot for the Arylic A50 and you will instantly notice audible clipping and distortion. To fix this problem, I recommend that you use something like the inexpensive tube preamp/buffer shown here. With this preamp/buffer, it's volume control will allow you to attenuate the signal coming out of your component source down to a level that the Arylic A50 can properly deal with. For reference, you may be setting the volume control on this preamp/buffer to 20-25% (imagine 9:00 o'clock on an analog clock).
Science and Listening: Another website that aims to provide "objective" reviews of audio products reviewed the Arylic A50 and unfortunately they decided to do very limited testing and no music listening test at all. While they are entitled to their opinions, more context is needed because their reviews always focus on SINAD (a measurement of signal to noise and distortion) which is an imperfect measurement. SINAD is only one factor to consider. It is often used to determine the sound detail possible in terms of "bits". However, too often a lot of audio products are built to excel at certain measurements and yet may still fall very short in real world usage playing music. SINAD makes use of calculations which include a margin of error and regardless, a rating of ENOB ("effective  number of bits") can be extremely misleading.
In regards to playing music, the Arylic A50 does not present any audible distortion unless a signal through it's auxiliary RCA input is too high for it to handle (see Tip # 3  above). Otherwise, it presents a fairly neutral and detailed sound. It is a very good amplifier. Practically no music recordings have the maximum or even significant dynamic range so an amplifier with a very high SINAD measurement will not improve audible performance simply because of its SINAD measurement. Plus, there will always be imperfections and compromises in the rest of your signal chain including speakers and your listening space itself. Pairing this amplifier with decent bookshelf speakers results in very good audio reproduction!
Conclusion: The Arylic A50 offers great value. The amplification stage is on par with decent AV Receivers. Streaming stability is excellent with no drop-outs. A physical remote control is provided in addition to the reliable "4stream" iOS and Android app. Other components such as CD  players sound good through the RCA analog auxiliary inputs (but see Tip # 3 above in terms of line levels). Multiple Arylic A50 units can be combined to cover listening needs across multiple rooms or offices. With RCA analog outputs, the Arylic A50 also makes a great streaming network player into an external amplifier. (For high performance preamp duties, Arylic has the Arylic S50 Pro which is a streaming network player without speaker amplification that utilizes an ESS Sabre 9023 DAC).